How to implement an effective whistleblowing system
Part 1: The checklist to organize the implementation of the system in the company and assess its effectiveness
How do you measure the effectiveness of a whistleblowing system? To answer this question, there are several evaluation criteria to consider, some of which are rather difficult to quantify.
The first step in introducing whistleblowing procedures that satisfy not only management but also employees, partners, and stakeholders, is to clearly define the objectives and strategies to achieve them.
The next step is to define the operational elements of the system, such as reporting channels, communication measures, and processes that are integrated into the corporate culture.
The purpose of a whistleblowing management system is to provide one or more channels of communication, organized and supervised by people with the necessary skills, through which misconduct reports can be made while fully respecting the confidentiality of the reporter.
In this way, the organization can actively prevent scandals and economic damage before they occur.
Here's a sneak peek of our checklist to ensure the effectiveness of your whistleblowing management system.
Get our FREE whistleblowing checklist

to learn more
Only an organized and transparent system will truly win the trust of whistleblowers.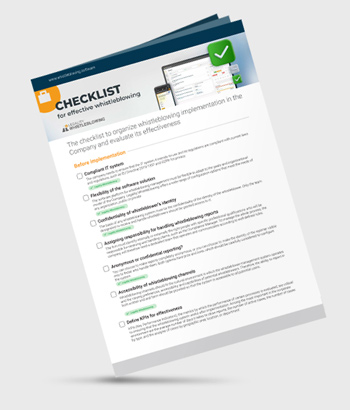 Fill out the form and receive the complete checklist now