Legality Whistleblowing is the reference software for

Whistleblowing
The software allows the regulation of the procedures for increasing and protecting the report of wrongdoing. Legality – Whistleblowing is valuable tool  that enables the Public and Private sector employers to confidentially report any wrongdoing.
Accessible and multi-device (pc, tablet and smartphone)


Secure (Asymmetric cryptography on textual contents and attachments)

Customizable (contents, information and privacy)
In full compliance with privacy, the whistleblower and the manager can enter their private area through an administrative software, accessible from any device.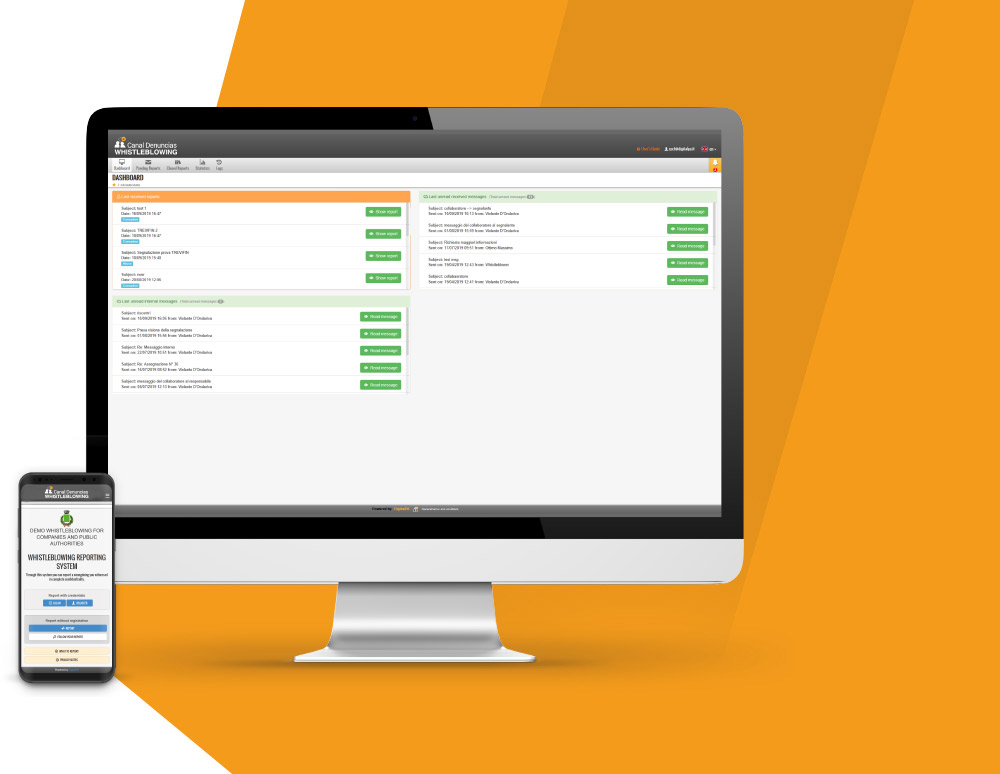 Whistleblowing for Private Companies and Public Authorities
The software can be delivered in configuration for:
Companies with Supervisory Individuals or Boards and with more than 50 employees
Public Authorities, Subsidiary Companies and any other entity following the Directive (EU) 2019/1937 (the so called, Whistleblowing Law)
Multilingual configuration available, along with custom versions for joint-ventures or groups of more public authorities.
The software is a tool fully compliant with best practices of the international Whistleblower System BPO (Business Practices Office).
Safe and Compliant
The Whistleblowing platform has been developed to meet the highest security and secrecy requirements, key features in the whistleblowing procedure.
Indeed, access logs and data are managed in strict compliance with the regulatory framework and the whole procedure is certified by the most rigorous standards of the ISO / IEC 27001 (information management system) that guarantee the integrity and confidentiality of the processed data.
The software is fully compliant with the ISO 37301 (formerly 19600) and ISO 37001 standards dedicated respectively to the guidelines for the Compliance Management System and the Anti-bribery Management System, and therefore conforms to obtaining the certifications by the company or organization which chooses it.
Thanks to its tracking, validation and privacy procedures, the software is, actually, the only alternative to protect especially the supervisors from possible fines.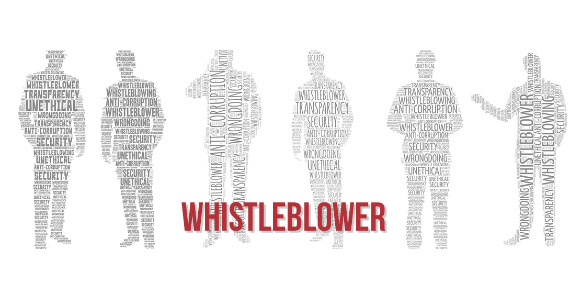 Configured either for Companies or Public Authorities

A management platform thought for Managers and Employers

Access regulated in accordance with the privacy policy (password complexity and change)
Clear distinction between the registration process and the reporting process, for a correct separation of data to protect and the whistleblower's identity

Customization of contents, office circulars and administration policies

Possibility to manage reports of registered and unregistered users (at the client's own discretion)

Management and computerization of paperwork

Complete statistics and system logs that track all the operations performed on the platform

High-level SLA (Service Level Agreement) with maximum service reachability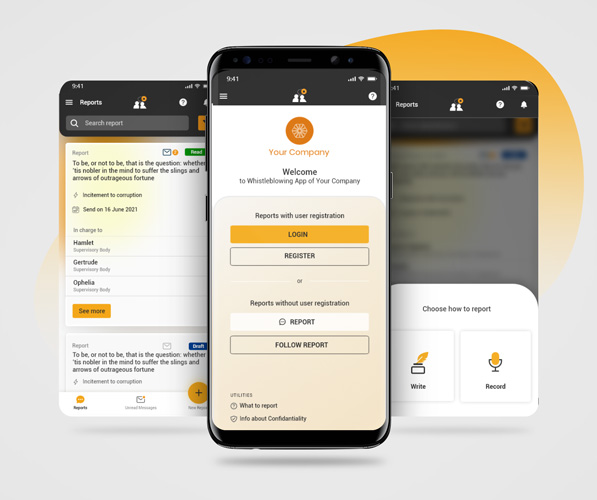 Whistleblowing software for the management of illegal conduct reports, perfect for System BPO (Business Practices Office)
The competent department in charge of Whistleblower System BPO (Business Practices Office) shall carry out thorough checks and controls on the compliance of Companies with Directive (EU) 2019/1937.
Verify, free of charge, whether your Entity/Company complies with the Anti-Corruption obligations.
Trusted by
over 1000 Companies

around the world
Totally configurable and customizable, the platform Whistleblowing is chosen by Companies and Public Bodies.
News, releases and updates